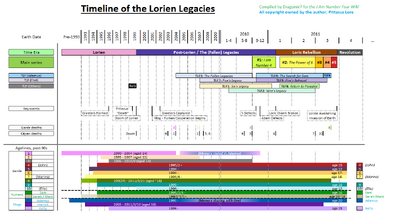 This article is a subpage of Timeline. It details the events happening in the Rebellion Era, where the events between Book 2 (The Power of Six) and Book 5 (The Revenge of Seven), along with other events in the same timeframe, take place. It is still incomplete and is a Work-in-progress.
Era
[
]
Codes to the novels / novellas are appended in the table below. Brackets, where applicable, direct to the specific chapter of the book. For consistency purposes, the Garde's names are all represented in their numbers.
For the derivation of dates, refer to the relevant section of the main article.
Timeline of the Rebellion Era
[
]
Date
Main events
References
Mid-January

The Ohio authorities investigate into the James' house fire and Paradise High School incidents.

Five of the school staff are found dead in a classroom untouched in the battle.
Reporters, after taking witnessess, attribute the instigators of the incidents to be Four and Henri, despite Sarah and Mark pleading otherwise.
Public outrage turns towards Four and Henri, with local authorities offering rewards for their captures.

Five gets hurt in a sparring session with Mogadorian soldiers, and realizes that the Loric Charm has broken.

LL2, TLF9(5)
Late January

Four, Six, Sam and Bernie Kosar engage in a skirmish with the police in Tennessee.

Four and Six use their Legacies to destroy 2 police helicopters and elude 35 police officers and a watchdog.
The group eventually gets onto a train headed south, where Six recounts her memories of being captured.

Ella, under the aeternic age of seven, is sent by her Cêpan Crayton to join the girls of Santa Teresa and watch after Number Seven.

Ella and Seven quickly become close friends.

Seven finds information regarding Four on the internet.

Seven visits her hideout cave in the mountains and paint a picture of Four.

LL2
Early-Mid February

Four, Six, Sam and Bernie Kosar settle down in an abandoned house near Lake George, Florida.

Six proceeds to train Four and Sam physical combat skills everyday for about a week.

(16) [1] While exploring Four's Chest, Six accidentally activates a Crystal Ball, whose pulsing alerts the Mogadorians to their location.

Three Mogadorian scouts arrive and destroy the house.
Six and Sam kill the scouts despite sustaining injuries from the fight.
The party heads north while leading a false trail towards the south for the Mogadorians.

LL2(7,13,18)

Seven takes unannounced leave before El Festín to visit her hideout cave again, only to find Crayton's boot prints at the entrance.
Crayton barges into a café, where Seven and Héctor Ricardo are in conversation.

Crayton pretends to read a Pittacus book and secretly signals his friendliness towards Seven, only to send her fleeing back to the convent while believing that he is a Mogadorian.

Ella helps Seven locate her chest in the convent, but they are spotted by Gabby, Delfina, La Gorda and Bonita.

Seven knocks the four girls unconscious.
Seven develops her Legacy of Healing, and heals Ella after the latter injured herself from a fall.

LL2(12,16)
February 26 [2]

Four, Six and Sam read Henri's letter, and opt to revisit Paradise, Ohio to find Malcolm Goode's transmission device.

Four and Six fiddle with Four's Glass Orbs and overhear a dialog between Number Seven and her Cêpan Adelina. [3]

Seven cures Carlotta Ricardo of her degenerative disease.
Seven steals four drug tablets from Carlotta Ricardo's pill bottle and adds them to Adelina's nightly tea.

Seven coerce the drugged Adelina into opening her Loric Chest.
Seven unknowingly activates a position-tracking Loric crystal and pleads to Adelina for help. [3]
Crayton slips into the convent tower, attempting to talk to Seven.
Seven detects Crayton's footsteps and quickly hides herself, Adelina and the chest.
Crayton creates a huge burning Loric symbol in the mountains to distract the Mogadorians off course.

LL2
February 27

Four, Six and Sam explore the hidden well behind Sam's house, but are alarmed by the arrival of Mogadorians, and quickly defeat the first wave of scouts.
Four and Sam take a diversion to visit Sarah Hart. [4]
Mark sneaks into his father's office to obtain information about the school incident in his quest to clear Four's name and prove the involvement of the Mogadorians.

Mark is caught red-handed by his father, who clears all captured information and prepares to send Mark on his way home.

Four meets Sarah, who texts Mark to inform him of Four's arrival.

Mark's father is alerted by the texts, quickly places Mark under house arrest and calls on the police and FBI to find Four.
The FBI arrives at the Goodes' house to arrest Four and his accomplices.
Four's Chest is confiscated and taken to the Mogadorian Mountain Base in West Virginia.
Four and Sam are arrested, taken to the FBI's nearby Dumont Facility and interrogated by Detective Will Murphy.
Four, with the help of Six and their combined Legacies, manage to get himself and Sam out of police custody.

Sarah is interrogated by the FBI on her relationship with Four, and fabricates a story to protect herself and Four.

Sarah is released later in the morning.

Six discovers crucial information about Seven and the events in Spain, and decide to head there immediately.

Six part ways with Four, Sam and Bernie Kosar, helps to charge their Xitharis with her Invisibility Legacy and gives them directions to the West Virginia base as well as a contact address for rendezvous.

LL2, TLF8

Mogadorian scouts spy on Seven's bedroom and murder Miranda Marquez, a girl of similar looks to Seven, in school in the morning.
Adelina listens to Seven's report on her Chest and the arrival of a "Mogadorian", and finally decides to leave.

Seven attempts to bid farewell to Héctor, but reels and runs away at the sight of Crayton speaking with Héctor.

The other girls and nuns evacuate the convent as the Mogadorians arrive.
The first wave of Mogadorians arrive and attack Seven. [4]

Adelina fights the Mogadorians to bide time for Seven to escape.
Adelina is killed by a blond-haired Mogadorian soldier despite fatally injuring him.

Crayton reappears with Ella before Seven, and formally introduces himself and Ella as Cêpan and Garde, citing her aeternic ability.

Héctor drives Seven, Ella and Crayton, along with Seven's Chest, away from Santa Teresa in his truck with Mogadorian-driven vehicles in pursuit.

LL2
February 28

The Mogadorians and Five prepare for Five's ascension in the Mogadorian ranks.
Infiltration in West Virginia:

Four, Sam and Bernie Kosar find their way to the Mogadorian cave in West Virginia.
Four and Sam use the Xitharis and intrude the cave to find Four's Chest.
Four and Sam trigger the alarm when the Xitharis' power runs out, and quickly defend themselves against the Mogadorian workers and beasts.
Four retrieves his and Nine's Chests from the beasts' chamber.
Four destroys the mechanic controls as well as the gas tanks with green lavaballs, causing a large explosion and partial collapse of the base.

Four and Sam find Nine, who frees himself quickly from the prison cell with the absence of the locking force field.

Sam scans the prison cells to find his father but is separated from Four and Nine in the process.
Five leads a team of Mogadorian soldiers to attack Four and Nine, and commands Ethan to lead another. [5]
Four continues to use lava attacks as he and Nine fight their way out of the base.
Ethan is critically injured by the lavaballs, while most of the troops under him are decimated.
Five quickly commands his troops forward, while retreating to take Ethan to the medics.
Four and Nine exits the Mogadorian cave in haste, and witness the arrival of Setrákus Ra who enters the cave and locks it with a blue force field.
Setrákus Ra arrives in the base and knocks Five out to protect him from further injuries in the battle.
Four attempts to run through the force field to save Sam, but is ejected and badly wounded.
Nine and Bernie Kosar nurse Four's injuries and proceed to leave West Virginia quickly.

LL2, TLF9

Héctor, accompanied by Seven, Ella and Crayton, drives his truck through dangerous terrain and eventually arrive at Olivia's lake.

Crayton summons Olivia from the lake to help fight the incoming Mogadorians.
The Mogadorians release hundreds of krauls that bite and fatally wound Olivia, causing her to fall into the depths of the lake.
Seven quickly sends Ella in hiding in a tree and entrusts Ella with her Chest.

Six arrives on the mountain overseeing the lake, and conjures a large storm to decimate the Mogadorian troops.

Seven, Ella, Crayton and Héctor are forced towards the lake to take cover from the storm.
Seven, Ella and Crayton's weapons, coupled with Six's powers, effectively kill most of the Mogadorians and repel the remaining ones.
Héctor, burdened by Seven's Chest, is ambushed and killed by pikens, before the Garde manage to retaliate by killing the creatures and repel the final offensive.
Six, Seven, Ella and Crayton bury Héctor at the bottom of the dam.
The Garde, led by Crayton, finally prepares to leave Spain to look for other Garde members.

LL2(29-33)

Mark and Sarah sneak out to the Goodes' house during lunch period in school.

Mark and Sarah narrowly escape an automated car attack, presumably installed by the FBI to keep passers-by from poking around.

Agent David Purdy, under direct orders from Mogadorian superiors, forcibly take over the office of Mark's father.
Sarah is detained by the FBI(?) after school and would later be taken to the Dulce Base in New Mexico.

TLF8(12)
March 1

Setrákus Ra has a discussion with Five, and persuades Five to kill his former mentor Ethan, whose use to the Mogadorians has run out.
Nine attempts to drive Four and Bernie Kosar away from the Mogadorian base in West Virginia, but is forced to settle down in an abandoned house after his vehicle runs out of gas.
Mark is questioned by FBI agents Walker and Noto on the whereabouts of Sarah, but pleads ignorance.

LL3(2); TLF8(12)
Date
Main events
References
Early March

(2) Setrákus Ra tortures Sam in the West Virginian base and forces information about the Garde out from him.
Five bids farewell to Ethan in his old Miami house, and fatally stabs Ethan in his chest.
(3) Four witnesses Sam's torture in his dreams.
(4) Adam and Malcolm arrive at the latter's house in Paradise, Ohio to check on Sam, only to find Malcolm's wife alone and distraught over the loss of her son.

Adam suggests to Malcolm to go to the base in New Mexico to look for Sam, and the pair start on the road on the following day.

Setrákus Ra creates scenes in Four and Eight's dreams at night.
(6) Sam is taken to his new prison cell in an isolated block in the government base in Dulce.
(7) Six, Seven, Ella and Crayton, disguised as ordinary teacher and schoolchildren going on a field trip, board a plane for New Delhi, India.

LL3; TLF4

(Date unknown) Mark successfully sneaks into the Goodes' house and find copies of They Walk Among Us in Sam's room.

Mark calls the They Walk Among Us editors, only to be told that the printing is closed down.
Mark shares the information with GUARD, who suggests to start the new They Walk Among Us with him and sends him a hacked file on Agent Purdy's bank accounts and passwords.

Mark leaves home and sneaks into his father's office with the help of GUARD's diversion.

Mark successfully enters Purdy's laptop and find news that Sarah had been taken to the Dulce Base.
Mark quickly departs with Purdy's laptop and head for New Mexico.
Mark fails to authenticate into an encrypted folder in the laptop, causing the hard disk to shut down.

TLF8
March 8

The group is ambushed and attacked by soldiers from the Lord's Resistance Front, and the two parties quickly engage in armed conflict.

Many of Commander Sharma's men are killed in initial assaults and missile strikes.
Six and Seven attempt hard to fight back and defend their group from the attacks.
Six and Seven lead their attackers to a showdown after sending their attackers' missiles into their firing vehicles and spreading the burning flames between the vehicles.
The Lord's Resistance Front retreats, allowing the rest of the group to pass peacefully.

Commander Sharma leads Six, Seven, Ella and Crayton on a hike up the hills.
The group arrives at a giant pool of water where waterfalls from the mountains converge.

Eight appears in Vishnu's different avatars and test the Garde individually in turn.
Ella breaks Seven's glasses accidentally in the process.
Eight acknowledges the Garde's passing of the tests and formally introduce himself and his Legacies.
Eight thanks Commander Sharma for his devotion and bids him farewell, leaving the Commander visibly stunned.

Eight leads the Garde and Crayton to his hut in the mountains for shelter in the night.

Eight recounts his story from the death of his Cêpan Reynolds to his encounters with Devdan and Commander Sharma's men.

LL3

Four and Nine first open their Chests after leaving the West Virginian base.

Four puts on the red oval bracelet from his Chest.
Four activates the glowing orbs from his Chest, and a globe of the Earth showing the locations of the other Garde appears.
Four and Nine overhear an armed conflict taking place in India, where Six, Seven and Ella are. [6]

Four and Nine are arrested by an FBI operation led by Special Agents Walker and Purdy.

Four and Nine are stunned by the revelation of the United States government working together with the Mogadorians.
Four and Nine fight their way out during the trip to headquarters, using their Legacies to scare away the police officers.

Nine leads Four to his safe house in the John Hancock Center, Chicago.

Nine requests the goods' deliverer to bring Sandor's materials into the storage room in his house.

LL3(6,12)
March 9

Six, Seven, Eight, Ella and Crayton discuss their next destination.
Six, Seven and Eight flirt in the lake near Eight's hut.

Seven finds Eight's Chest lodged in a Mogadorian ship at the bottom of the lake, and retrieves it for Eight.

Eight leads the rest up the mountains into a secret Loric cave at the peak.

Crayton and the Garde marvel at the Loralite stone in the atrium, as well as the drawings on the cave walls depicting actual and future events pertaining to the Garde.
The group are stunned in revelation to find Eight's impalement by a Mogadorian sword in one of the drawings.

Mogadorians arrive at the cave. [7]

Six fights the incoming Mogadorians to hold them back as the group retreat to safety.
Crayton proceeds to fetch Seven's and Eight's Loric Chests.
A rocket fired into the cave explodes in front of Crayton, killing him instantly and decimating the drawings on the cave completely.
Seven fails to revive Crayton with her Legacy.
Eight holds onto Seven's and Ella's arms (with Six linking her arm onto Seven's) and hastily teleports out of the cave.

LL3(15,17)

Seven, Eight and Ella land in the Gulf of Aden off the coast of Somalia.

Eight transforms into an octopus, pulls Seven, Ella, both Loric Chests as well as the Loralite stone on the ocean floor with his tentacles, and teleports.

Seven, Eight and Ella arrive at Stonehenge.

Eight attempts to distract patrol guards by toppling the large rocks while looking for the Loralite stone.
The group move the rocks back in position, find the Loralite stone and teleport away in time, leaving the stunned patrol guards behind.

LL3(20,23)

Four and Nine find connecting cables to Malcolm's White Tablet and manage to activate it.

Four and Nine witness the four other Garde (Six, Seven, Eight and Ella) teleport with information from the tablet, with one Garde (Six) landing in New Mexico and the others in the Gulf of Aden.
Four engages Nine in a rooftop fight over their next destination, and is humiliated in defeat.

Four and Nine fall asleep after their brawl and witness the same dream involving battles between the Garde and Setrákus Ra, with a warning that tells them to head to New Mexico.

Convinced, Four and Nine arm themselves and prepare to drive off on Nine's Ford Contour.

LL3(16,18,21)
March 10
Date
Main events
References
March 10

Adam and Malcolm arrive at Sam's prison cell in Wing C of the Dulce Base.

Sam is reunited with his father.

Adam and Malcolm's presence alerts a Mogadorian guard patrol.

Adam uses his Legacy of Earthquake Generation to destroy Sam's prison cell, allowing Sam and Malcolm to escape.
A Mogadorian platoon led by Ivan closes in to confront Adam.
Adam uses his Legacy to trigger an earthquake near the base armory, causing it to explode.
The ensuing cave-in kills Ivan and most of the Mogadorian soldiers, while it knocks Adam out.

Malcolm and Sam make their way out of the base, killing Mogadorians in their way.

Malcolm and Sam find their parked Chevy Rambler and quickly drive off into the night.
Malcolm and Sam settle down in a Texan motel.

Adam comes to in the caved-in Dulce base.

Adam rescues injured trueborn officer Rexicus Saturnus from the rubble and pulls him to the surface.
Adam and Rex take refuge in the destroyed watchtower on the perimeter of the Dulce base.

Adam meets Dust, a Chimæra in wolf form and escaped prisoner from Dulce.

TLF4(14), LL4(2); TLF6(4)
March 13

Rex confronts Adam for being a Mogadorian traitor.

Dust defends Adam from Rex by shape-shifting into a lion.
Rex reveals the presence of other Chimæra, captured and experimented on by the Mogadorians on Earth.

March 14

Five prepares to infiltrate the Garde, with direct orders from Setrákus Ra.

Five scans through the Everglades in Florida and buries his Loric Chest in a small island deep in the swamp.
Five reads Ethan's farewell letter, but decides to sever his emotional ties to Ethan to prevent the Garde from manipulating it in the future.

TLF9(10)
March 15

Five burns a Loric symbol of his number in a cropfield in South Carolina.

LL4(5)
March 16

Nine alerts the others on a news broadcast about the burning cropfield in the Loric shape for Five in South Carolina.
Adam coerces Rex regarding the captured Chimæra, who eventually discloses their holding location at Plum Island, New York.
Adam and Rex cajole Dust in taking them to the nearest town on his back in donkey form.

Adam and Rex apprehend a pickpocket, retrieve the $1300 he stole, and settle down in a restaurant for food.
Adam and Rex purchase necessary supplies to use after arrival on Plum Island.

Adam, Rex and Dust hitchhike their way to Alamosa, Colorado, before boarding a bus for Kansas City, Missouri.

LL4(6); TLF6(7,8)
March 17

Four, Six and Sarah travel to Arkansas to meet Five.
Seven and Eight take an unannounced walk around Chicago.
Seven, Eight and Nine spar in Nine's Lecture Hall.
Ella reads Crayton's letter and is emotionally traumatized to find herself not one among the Garde.

Ella proceeds to bid farewell to Seven, Eight and Nine.
Seven reads Crayton's letter for the others, who convincingly persuade Ella to stay and help with the Loric cause.

Rendezvous in Arkansas:

Four, Six and Sarah arrive on sight to meet Five, only to encounter a squadron of attacking Mogadorians.
Four, Six and Sarah quickly fend off the attacking Mogadorians.
Five deliberately displays his look of awe and stupidity during the battle.
The Garde face a huge Mogadorian centipede, which they are barely able to tackle.
Sam and Malcolm arrive at the scene of the battle on Malcolm's car, and just manage to help the Garde shoot the centipede's eye.
The Garde kill the creature, meet with Sam and Malcolm, and start on their return journey to Nine's house.
Five displaces Four's Xitharis Stone.

Adam and Rex ditch Mogadorian scouts at Union Station in Kansas City, and sneak their way on board a train bound for Philadelphia with the help of Dust and a conductor's train schedule.

LL4(8-14); TLF6(8)
March 18

Four leads Five, Sam and Malcolm on a tour around Nine's penthouse.
The reunited Garde, together with Sarah, Sam and Malcolm, begin a meeting in the John Hancock Center after dinner.

Everyone recounts their past story once to share with the others.
Malcolm relates his fated meeting with Pittacus Lore, who explained to him about the Loric cause and Loric objects, as well as his release from Mogadorian imprisonment by Adam.

Ella experiences her nightmare from Setrákus Ra, where she witnesses Ra holding her hand while the two watch the Human-Mogadorian war unfold.

Ella's screams awake Seven, who holds her hand and is involuntarily and temporary pulled into the dream scene of the destruction of Chicago.

Adam, Rex and Dust arrive at Philadelphia and take a break from the bus ride to New York.

Rex hides himself behind some vending machines while an incoming Mogadorian squadron attacks Adam.
Adam fully utilizes his Legacy of Earthquake Generation and kills the attacking Mogadorians with the help of Dust.

LL4(15-19); TLF6(9)
March 19 [8]

Rex drives Dust and the distraught Adam to the beach near Plum Island.

Rex attempts to explain to Adam his motive for hiding during the skirmish.

The Garde discuss the issue of Ella's nightmares.
Four, Seven, Eight and Nine take their chests over to Malcolm, who takes notes and catalogs their contents.

Eight finds an Antler whose use is unable to be found, and hands it to Bernie Kosar.

Nine disturbs Five while the latter is playing video games.

Nine's unruly behavior aggravates Five.
Nine punches Five just as Five's skin turns metallic, sending him reeling with a broken hand.

Sam and Four finish creating fake IDs for the Garde.

LL4(20-23); TLF6(10)
LL4(24), TLF6(10)
March 20

All seven Garde, BK, Sam and Sarah train in the Lecture Hall.

The Garde engage in a match of Capture the Flag, with Four, Five, Six, Sam, BK pitting against Seven, Eight, Nine, Ella and Sarah, and Malcolm Goode acting as the referee.
Seven captures the other team's flag with strategic victory.

Four and Sarah take a trip to the Chicago Zoo.

Four discover 3 vatborn Mogadorians in a nearby cave, attempting to deliver a parchment in Mogadorian script.
Four kills the Mogadorians and intercepts the parchment.
Four gives the parchment to Malcolm Goode, who scans it into his translating machine.

Sam and Six share some private time on the roof of Nine's penthouse.
Ella's body is possessed (supposedly) by Setrákus Ra upon falling asleep.

Seven alerts the others about Ella's convulsing state.
Four attempts to wake Ella by shining his Lumen into her eyes, but triggers the demonic force in Ella, which grabs Four and sends him into the same comatose state as Ella.
Sarah shields the Garde from Ella and pulls Four away from her.

LL4(26-29)
March 21

Rex kills the Mogadorians that guarded Adam's cell, and helps Adam disguise as a Mogadorian officer.

Adam and Rex arrives at the building that house the Chimæras.
Adam kills the Mogadorian scientists that experimented on the Chimæras, and proceed to release five of them.
Adam and Rex learn of the Mogadorians' imminent plan to assault the John Hancock Center.
Rex bids farewell to Adam as he leaves to join the Mogadorian soldiers for the attack.
Dust returns to Adam's side as he fends off the Mogadorians.

The remaining Garde from Five to Nine depart Chicago for the Everglades to recover Five's Chest.
The translation of the Mogadorian parchment is completed.

Sam and Malcolm are shocked to find the parchment being a duplicate copy of Malcolm's notes on the Garde's Chest items.
Sam accuses his father of unknowingly sending the notes to the Mogadorians.

Adam escapes Plum Island and drive towards Chicago in a stolen car, accompanied by Dust and the five Chimæras he saved.

Adam successfully calls Sam and warns him of the imminent Mogadorian attack.

LL4(31), TLF6(11-13)

Betrayal in the Everglades:

Five leads the other Garde into the swamp where he buried his chest, and calls for Mogadorian support.
Five deliberately injures Six and Nine, keeps them at bay with Telekinesis and reveals his underlying identity as a spy for the Mogadorians.
Nine aggravates Five with a mock comment, who then proceeds to send his wrist-mounted blade through Nine.
Eight teleports in front of Nine to block Five's attack, and is stabbed through the chest by the blade.
Death of Eight. A new scar is conjured on the remaining Garde's right ankles.

Mogadorian ships receive Five's call and arrive near the swamp.
Seven, lost for words at Eight's death and uncontrollably furious at Five, develops her Legacy of Cryokinesis.

Seven uses the Legacy to freeze the swamp and Eight's body, as well as impaling Five's foot in ice and blinding one of his eyes, but refuses to deliver the death blow.
Six picks up the injured Nine, pulls Seven away quickly and turns invisible before the Mogadorians and Five can react.

LL4(32,34,36)

Ambush in Chicago:

The Mogadorians arrive at the John Hancock Centre and begin their attack.
Sam, Sarah and Malcolm defend themselves as well as Four and Ella against the incoming Mogadorians.
Bernie Kosar heads off to the roof to fend off the first wave, without success.
The second wave of Mogadorians dodge past Four and Sam and capture Ella's limp body from Sarah before retreating.

Four wakes up from his trance and vision of the future Earth under Mogadorian rule.

Four witnesses Sam cradling his critically injured father while the Mogadorians kidnap Ella and get away.
Four stays to heal Malcolm of his wound.
Four quickly tasks Sam, Sarah and Malcolm to pack important items and leave the building.

Adam arrives up the elevator to Nine's apartment, only to find Four packing items.

Adam makes peace with Four after announcing his intentions. Four accepts Adam's help.

LL4(33,35,37)
Date
Main events
References
March 24[9]
LL5(2-5)
March 25

Four and his team prepare for an ambush on Ashwood Estates, with the Chimæra taking bird form to spy on the premises.

Four breaks into the estate and quickly engages in a fight with General Andrakkus Sutekh, who manages to wound Four and destroy his protective bracelet.
The General attempts to take on Four one-on-one in the force field-locked basketball court, but Adam and Dust intervene, and Adam manages to run the General through with his own sword before he can kill Four.
The Chimæra, with firepower help from Sam and Malcolm, kill all the remaining guarding Mogadorians.
Adam quickly takes control of the command systems, shuts down the surveillance cameras and dictates an overwrite of all the controls in the Florida base, while relaying to the West Virginia base of a chemical leak as an excuse to bide time.

LL5(7-9)

Dale leads Six, Seven and Nine back into the swamp with his boat.

Six, Seven and Nine fend off a patrolling Mogadorian platoon with their powers, which scares Dale away.
The trio, while invisible, witness the soldiers load supplies on board the gigantic Mogadorian warship, as well as Five standing guard next to Eight's body.
Five notices the Garde, shows remorse for his deed, and deliberately leaves Eight's body behind with the Garde as he frames another Mogadorian officer for the loss of the body and boards the Mogadorian warship.
The trio collect Eight's body, and narrowly escape some Mogadorian guards' ambush as they attempt to escape. [10]

Six, Seven and Nine acknowledge Four, Sam and Adam taking over the controls, and successfully follow their instructions to steal a Mogadorian Skimmer and fly back to Ashwood Estates for rendezvous.

Six and Sam share a brief moment of romance.

LL5(11-14)

Special Agent Karen Walker arrives at Ashwood with her squadron of men and machines, and announces her intention to surrender and support the Garde as Four's team interrogate her.

Walker divulges information on the US government's MogPro faction, led by Secretary of Defense Bud Sanderson, as well as the Mogadorian genetic experiments on humans and her genuine fear of the future of humanity under the Mogadorians.
Walker suggests and convinces the Garde to head to New York to assassinate Bud Sanderson and expose Setrákus Ra's identity during the UN convention two days later.

LL5(15)
March 26

Malcolm discovers an old video of his interrogation by Doctor Anu before his brainscan experiment, in which he divulged information about the Loric Sanctuary in Calakmul, Mexico. He shares the video with the Garde.

The Garde agrees to part ways, with Four, Nine, Sam and the Chimærae following Walker to New York, and Six, Seven and Adam going to the Sanctuary with the Loric treasures in Seven's Chest and Eight's body.

The Mogadorians strip Bud Sanderson of his bodyguards and leave him to rot in his New York hotel room.

LL5(17-18)

Walker leads her men and the Garde to New York and attempts to enter Sanderson's hotel undercover.

Nine accidentally activates the pair of Sonic Gloves he received from Seven, causing a minor explosion and alerting the Mogadorian guards to their presence.
Four, Nine and Walker fight and defeat the Mogadorians in front of the hotel, as well as those deployed on Sanderson's floor with the aid of Nine's Tornado Stones.

The group confront Bud Sanderson in his room.

Four narrowly prevents Sanderson from committing suicide by freezing his pistol's bullet with Telekinesis.
Sanderson explains his plight and abandonment by the Mogadorians to Four, who heals him of his genetic corruption out of sympathy.
Sanderson cites the impatience of the Mogadorians to wait for the UN conference, as the group take notice of Mogadorian warships landing on Earth's large cities from a television news broadcast.

LL5(19-21)
LL5()
Notes
[
]
Major events in the Lorien Legacies series
Before the Fall of Lorien
Fall of Lorien
The Legacies
I Am Number Four
The Power of Six
The Rise of Nine
The Fall of Five
The Revenge of Seven
The Fate of Ten
United As One
Other events