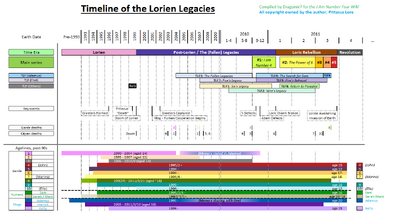 This article is a subpage of Timeline. It details the events happening in the Lorien Era, before Lorien faces its doom during the Mogadorian invasion, at a time when its land and inhabitants still thrive.
Era
[
]
Codes to the novels / novellas are appended in the table below. Brackets, where applicable, direct to the specific chapter of the book. For consistency purposes, the Garde's names are all represented in their numbers.
For the derivation of dates, refer to the relevant section of the main article.
Timeline of the Lorien Era
[
]
Earth Year
Date
Main events
References
Centuries prior to the Fall of Lorien
LL6(20)
Decades prior to the Fall of Lorien
LL6(20)
c.1940s
LL4(16,34)
c.1950s
TLF3(9)
1960
LL1(1)
1969
LL2(5)
c.1970s
TLF5(1); TLF7(7); TLF11(15)
c.1981

Birth of Lexa's brother Zane on Lorien.

TLF11(15)
1990
TLF3(4)
1991
TLF3(1)
1993
TLF3(1); TLF8(1)
June
LL2(12)
1994
TLF1(1); TLF7(1); TLF11(6)
1995
January 4
LL2(21)
c. February 14 [5]
LL1(22), LL2(14)
TLF3(15); LL2(31)
1996
TLF3(23); TLF4(10); LL2(18)
1998
LL1(34)
1999[6]
1 month before Quartermoon
TLF5; LL4(17)
Quartermoon

The Loric celebrate Quartermoon on Lorien.
Fall of Lorien:

The Mogadorians invade Lorien.
A great war between the Loric and the Mogadorians result in the Loric's defeat and massacre by the Mogadorians, henceforth known as the First Great Expansion.
The Lorien Defense Academy is razed to the ground, killing Daxin, Rapp and most of the Garde and Cêpan in it.
Sandor picks up Number Nine and assumes the role of Mentor Cêpan of Number Nine, despite being untrained.
A ship in an undamaged airstrip piloted by Janus carrying the nine Garde, their Cêpan and Hadley, depart Lorien and stay in orbit for a week to escape from the Mogadorians.

LL1(23), LL2(27), TLF5; TLF11
Notes
[
]
Major events in the Lorien Legacies series
Before the Fall of Lorien
Fall of Lorien
The Legacies
I Am Number Four
The Power of Six
The Rise of Nine
The Fall of Five
The Revenge of Seven
The Fate of Ten
United As One
Other events