The Lost Files are a series of spin off stories focusing on individual character origins, also written by Pittacus Lore. They are individually released in the form of E-books and are published, in groups of three, in paperback form.
Six's Legacy - Follows Number Six and Katarina and their struggle on Earth. Answering a blogpost from Number Two puts the Mogadorians on their trails until they are eventually caught. Six is locked away, alone, until she discovers a way to escape. Its conclusion leads into the events at the end of I Am Number Four.
Nine's Legacy - Follows Number Nine and Sandor who have been living safely in Chicago for five years. Suddenly Nine's interest in a girl causes rifts between their relationship and eventually puts them into the path of the Mogadorians. Its conclusion leads into the events at the end of The Power of Six.
The Fallen Legacies - Recalls the story of a young Mogadorian known as Adamus who witnesses the death of Number One and is forced into her memories using mog technology. During the process he undergoes a change and embarks on a mission to save Number Two and Number Three.
The Search for Sam - Continuing the story of Adam who was left for dead in a ravine in Kenya. Adam has formed a relationship with Number One who still lingers in his head but is fading. Adam returns to his old home and hopes to save her, though this means keeping his father, who knows he is a traitor, sweet. He fails to save her but her legacy is passed on to him. He uses it to rescue Malcolm Goode and the two begin a search to find his son Sam.
The Last Days of Lorien - Sees a young Sandor struggling to find a path to follow in his life, his selfishness puts the future of the planet in danger when the Mogadorians strike. In realisation and despair Sandor starts a dangerous journey to put his mistake right and ensure the Elders plan is initiated.
The Forgotten Ones - Returns to the story of Adam who has survived and had discovered something that the Mogadorians have hidden that may help the Garde greatly. Teaming up with a Mogadorian Officer, who mysteriously decides to help him, Adam embarks on a journey to New York to rescue the captured Chimæra.
Five's Legacy - Follows Number Five and Rey who are hiding in a isolated island in the Caribbean. After Rey dies Five travels to Miami where he meets a girl. Together they steal a wallet of a man, named Ethan, who offers them jobs. Five, angry with the Elders plan and hungry for power and control of his own life, becomes close with Ethan - bringing him closer to the Mogadorians.
Return to Paradise - Returns to Paradise a week after John left. Mark James struggles to go back to his life after finding aliens live among humans and some of them seek to destroy. Along with an anonymous blogger named Guard Mark tries to gather more information about Mogs and Loric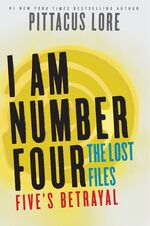 Five's Betrayal - Returns to Number Five, having agreed to join the Mogadorians. Five is promised a high rank within the Mogadorian army and control over North America but he has to prove himself first. Five must kill Number Nine.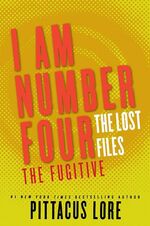 The Fugitive - picks up Mark's story from "Return to Paradise" and runs parallel to both "The Fall of Five" and "The Revenge of Seven"  Mark James is on the run—and on the wrong side of the law—but he'll do whatever it takes to save Sarah Hart and help the Garde.
I Am Number Four: The Lost Files Collections/Bind-Ups
[
]
Includes Six's Legacy, Nine's Legacy, The Fallen Legacies.
Includes The Search For Sam, The Last Days of Lorien, The Forgotten Ones.
Includes Five's Legacy, Return to Paradise, Five's Betrayal.
Includes The Fugitive, The Navigator,The Guard.
Includes Legacies Reborn, Last Defense, Hunt for the Garde.
Trending pages
All items (20)