Lorien Legacies is a series of young adult science fiction books, written by James Frey and Jobie Hughes under the collective pseudonym Pittacus Lore. There are currently six novels in the series, of a proposed seven.
I Am Number Four
(2010) - Follows the journey of
Number Four
as he copes with life knowing that he is next in line to be killed following the death of
One
,
Two
and
Three
.
The Power of Six
(2011) - Continues the story of
Number Four
now with
Number Six
,
Sam
and
BK
, on the run from the mogadorians. Introduces
Number Seven
living in Spain with a Cêpan who has given up and Mogadorians close on her trail, when a previously un-heard of Number Ten and her
Crayton
arrive to help her get away.
The Rise of Nine (2012) - Number Four, after losing Sam and finding Number Nine, is still on the run in America. Meanwhile Number Six has met with Number Seven and Ella and travel to India to find another Garde.
The Fall of Five (2013) - Introduction of Number Five. The book picks up three days after The Rise of Nine. The Garde, excluding Five, stay at Nine's Chicago penthouse before getting hold of a message from Five. Four, Six, Sarah, and BK go find him in Arkansas and also meets up with Sam and Malcolm. Meanwhile, Ella is experiencing nightmares of Setrákus Ra. After getting back, there is some bonding time and training time between them before Five goes to the Everglades with Nine, Six, Marina, and Eight and reveals his traitorous side.
The Revenge of Seven (2014)The Revenge of Seven picks up exactly where The Fall of Five left off. The book is narrated in first person, with Number Four (John), Number Six, and Ella as narrators.

Tyftyrhdthy
The Fate of Ten (2015)
The Fate of Ten is the 6th book in the series, and is set for release September 1, 2015. Its title was revealed on the 23rd of January via the Facebook page for the series. [5] It was also revealed that there will be seven books in the series, rather than the previously believed 6.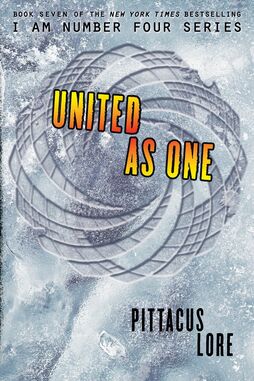 United as One (2016)
United as one is the last main book in the Lorien Legacies series and is set to be realised 28 June 2016, by Harper Collins publishers.
Trending pages
All items (31)